Mike Brown Sr. – Mike was a manager, player and coach from 1970 to 1990. Fastpitch teams include Homeport, Quaker Oats, Franks, Old Towne Inn, Joens Brothers & Joe's 88. Slo-pitch teams were Homeport, Taylor Insulation & Quaker Oats. Mike played catcher, 1st & 3rd base during his career. Batting average during Industrial league was .600 with a .400 in Minor Open and a .250 batting average in the Major Open. Mike played in 15 fast-pitch sate tourneys along with 1 – 16" Major State tournament and 2 – 14" Major State tourneys. He lists his biggest thrill as hitting a grand slam during the Industrial City Championship and hitting a double off of Richie Stephens in the Major Open. His first date with his wife was to a softball game and they have been married 45 years. After retiring from softball he coached his son for 10 years and is trying to keep fast-pitch alive Cedar Rapids still today. Mike is retired from Quaker Oats, a Viet Nam vet and a volunteer with the Eastern Iowa Honor Flights.
Emmitt Doolin – Emmitt was a player 20+ years from the mid 1970's to the late 1990's. He played first base and was a catcher in the 12", 14" and 16" games for teams such as MD Concrete, New York Life, Stop Off, Budweiser, Papa Juan's, Toads, Magic, Thriller, Pabst Blue Ribbon & Interstate Batteries to name a few.  Emmitt was competitive class and integrity personified. Few hitters in the State of Iowa were more feared than Emmitt. With a seldom seen combination of power, speed & raw athleticism, Emmitt anchored not only the National Championship (.620 batting avg) Interstate Batteries team, but a 10 year run by Interstate which included 2 league championships, multiple top finishes at District and State tournaments; culminating with the team being honored at the Cedar Rapids Softball Hall of Fame in 2012. His biggest thrill was the opportunity to compete against great competition and the friendships found with teammates. Emmitt is retired and enjoying life. He still helps his daughter Lindsay with the business she owns and operates. Married to his love, Mickey and spending time with children and grandchildren.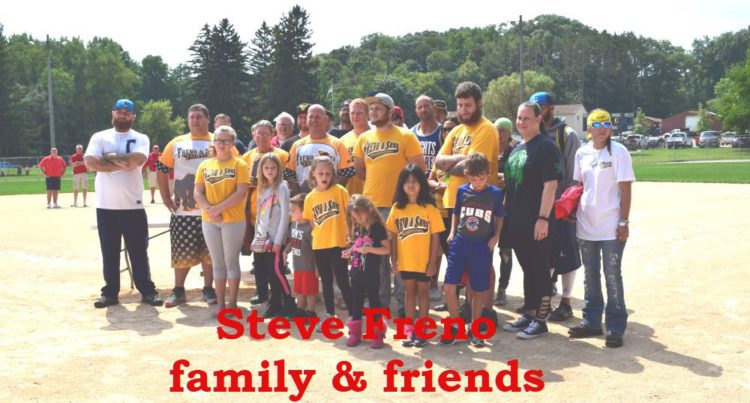 Steve Freno –(Inducted posthumously) Steve started playing softball in 1972 playing fast-pitch at Noelridge Park. The following year he discovered 16" slo-pitch and was hooked. Steve played for such teams as My Brothers Place, Paradise Lounge, CJ's Southside, Sunshine Unlimited, Phillips Trucking, Papa Juans, Clancey's Keg & Freno & Son's Painting. Steve was a player his whole life and his position was shortstop. Although batting averages aren't available he would always tease his boys about having a better batting average at such an old age. In his younger days there were doubles and triples, being able to paint both lines on the softball diamond. His son estimates he played in close to 1000 games during his career. His biggest thrill was playing with his 7 boys and enjoying the bonding time through the great game of 16" softball along with going to National tournaments in Prescott, Arizona and Aberdeen, South Dakota and teaching his 7 son's to play softball and carry on his legacy as a lover of this great game. Steve passed away in 2012 after a 3-year battle with cancer.
Craig Hartman – Craig played 21 years from 1978 to 1998 with teams such as Chappies, Showboat Lounge, Gaucho's, Armstrong's, Powercell, Fieckert Construction & The Regulators. Craig played outfield and 2nd base. Craig's lists of accomplishments include two State Championships and two runner-up finishes along with numerous trips to Regional and National tournaments year after year in 12" and 14" softball. He lists his biggest thrill as being able to compete against some of the best players in softball history. Craig still lives in CR and is employed by Ingredion (formerly Penford Products).
Bill Jones – Bill played fast-pitch for 10 years and slo-pitch a total of 16 years. He played shortstop and 2nd base for teams in the Major Open such teams as Ironworkers, Fosters Heating & Air, Marion Metros, Pabst Blue Ribbon & Modern Piping. Slo-Pitch teams were Bauman's, OK Lounge, Hawk's Nest & Bill's Tap of Lisbon. In 1976 he was named defensive MVP and overall MVP of Class B fast-pitch State tournament. He won a Regional Championship in fast-pitch and a State Championship in slo-pitch. Participated in 25 State tournaments and was voted two-time All-Star in Major Open. He lists his biggest thrill as in 1981 his Mom, Dad & nephew came to Fort Dodge to watch him play(first and only time)and his team won the tournament. Bill is now retired from Linn County Rec after 40 years and lives in Marion with his wife Donna.
Ed Murphy – Ed's umpiring career started in 1971 when an umpire did not show up for a game and he stepped in. He has been registered since 1975 and has worked softball for 43 years. As an umpire he worked 11 National Championships, including 7 – 16" Major and Class "A" tournaments in Illinois and Iowa. He also worked the 12" – 2003 Hooters Championship Series in Oklahoma City. In 2001 he was appointed Deputy UIC (Umpire-in-Chief) for the state of Iowa. In 2007 he was appointed Head UIC for the state of Iowa and still holds that distinction. He was the UIC for the first two Special Olympics National Tournaments and the first three National Invitational Special Olympics Tournaments. He also worked as UIC in 4 Iowa 16" Major Championships & 6 National 16" Tournaments. He lists his biggest thrill as being selected as the UIC for the first ever Special Olympics National Tournament. A tournament where hugs were given to the umpires regardless of wins or losses. A real treat to be a part of. He was accepted into the National Indicator Fraternity in 1995, the Gold Medals Program in 1999 & received Elite Umpire Status 2003. Ed still works at Mt. Mercy University and lives in Marion with his wife Deb of 15 years. He has 4 stepsons, 10 grandchildren and one great grand child.
Norm Nielsen – Norm was a player for the Webster City Merchants from 1960 thru 1975. He was a catcher and played in District and State tournaments in all 15 years and one year they made it to the Regionals. His biggest thrill was hitting 5 homeruns in 5 games during the 1966 State tournament. He's retired now but at the time he was President of Kirkwood College he was very instrumental in getting the 1990 16" National Tournament to be held at the Kirkwood Softball Complex along with various fast-pitch teams from around the country to come here and play. He continued to support softball through an ongoing commitment from Kirkwood College.
Sheryl Porter – Sheryl was a fast-pitch player in the 1960's for teams such as Happitime, Skelly Gas & Gary's Standard and numerous teams on the weekends whenever she was asked. She played mostly catcher but also a little 3rd base. No idea how many games she played in but she says "it was a lot". She played league a couple of nights a week and almost every weekend. There were not many stats available for her back then but she does remember hitting .637 in high school. She was named MVP a couple of different times. Her biggest thrill was whenever she stepped on the diamond she was in heaven so ever game was special. Sheryl retried from United Fire & Casualty. She now lives in Arlington, Iowa and helps take care of family.
Rod Smith – Rod played fast-pitch, 12", 14" & Co-Ed slo-pitch softball for 24 years from 1975 to 1999 for teams such as Floyd's Barber Shop, Crandic, Armstrong's, Modern Piping (slo-pitch), PJ's Worth Powercell, Weimer Construction and finished his career playing with a team from Lincoln, Ne. He mostly played outfield, then infield in his later years. His teams won State titles in Co-Ed and 14" with Armstrong's for which he was named All-Tournament. He played on 6 State Championship teams, also played in 3 regionals and made 9 trips to National tournaments in 12" with PJ's Worth Powercell and Weimer. Rod had a lifetime batting average of .578 with over 1100 hits during his time with them. He lists his biggest thrill when they finished 16th in 1993 in Class "A" Nationals and being fortunate enough to play with some of the best players in the game and to have an opportunity to compete at the highest level there was in 12". Rod now lives in Urbandale with his wife Laurie . He is employed by Van Meter, Inc. and has 4 children and 5 Grandchildren.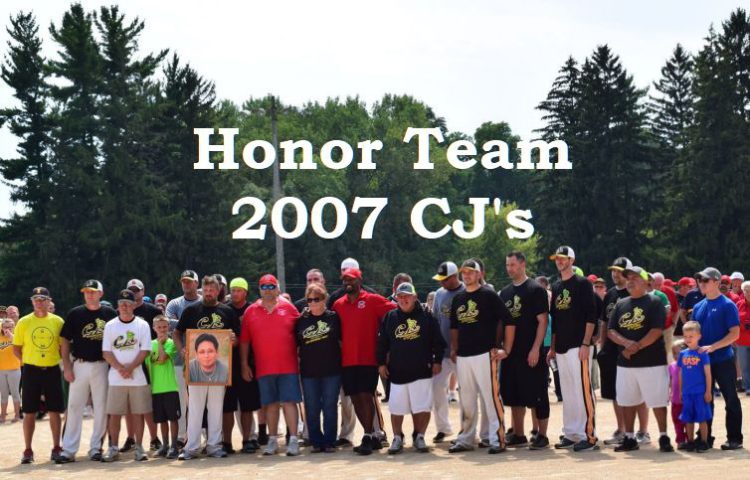 2017 Cedar Rapids Hall of Fame Honorary Team: 2007 CJ's